by print.de, 17 March 2019
Automation with BEIL: Faster throughput and gentle treatment of printing plates
As in many areas of the printing industry, the run lengths of label printers are decreasing as the number of different jobs increases. Label printing machines are also getting faster. The consequence: the printing plate demand gets higher and higher. Engelhardt Druck is Germany´s largest wet label printer with three locations. Together with BEIL-Registersysteme GmbH (Abensberg), Engelhardt has adapted its plate production to the current requirements.
Engelhardt Druck, which belongs to the Heiner Brinkhege Beteiligungsgesellschaft (HBB) in Georgsmarienhütte, employs 390 people at two locations in Nördlingen, Bavaria. The sister company Walcher & Rees nearby in Heidenheim has another 180 employees. Both companies produce – mainly for the beverage and food market – labels out of paper and foil on sheetfed and web offset presses.
The continued increasing demand for printing plates was barely manageable with their older manual workflow for plate production after exposure. In addition, the production was interrupted frequently by scratched plates. Thereupon the plate production in Heidenheim and Nördlingen were redesigned and fully automatic production lines were installed at both locations in corporation with the partner BEIL.
For 35 years, BEIL Registersysteme has been one of the world´s leading suppliers of systems for processing and handling printing plates for the printing industry. The company´s core competences in Abensberg, Bavaria, encompass the entire range of printing plate punching-, bending- and cutting-machines in every level of production , from manual table devices to fully automatic and networked printing plate processing lines. Precision, reliability and safety are three of the most important factors which users of BEIL systems appreciate in their daily work.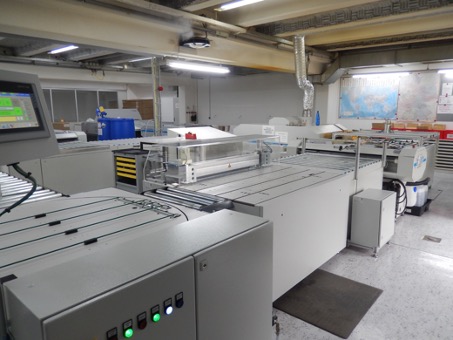 The new plate bender from BEIL; directly in front of it (right) is the barcode scanner that detects the plate format and ensures the correct processing and sorting.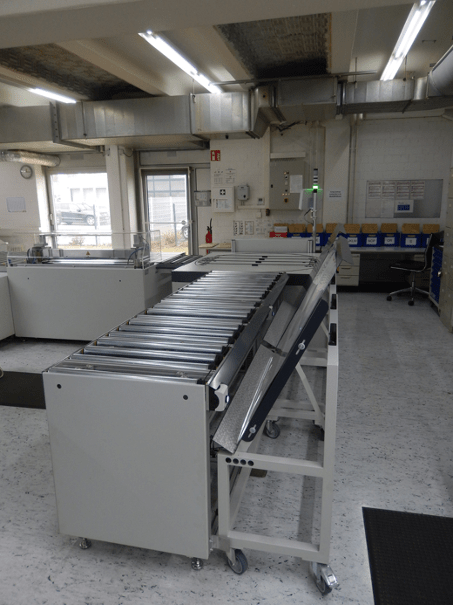 The plates are stacked on two plate trolleys – after each job change there is an offset between the stacks.
Utilization of already existing equipment
In their requirements, Engelhardt Druck outlined the need for safe and damage-free plate handling but also the sorting via barcodes and an option for the ability to upgrade the system for future growth. Crucial for the partnership with BEIL was the request not to install a completely new system, but to implement an intelligent expansion of existing equipment. Quote Roland Beil: "We recommend – if possible and economically efficient – to use existing aggregates and components of the customer and to make them compatible with our equipment by modifying or upgrading them."
In the project with Engelhardt, the proposal from BEIL was to equip the existing conveyor technology with new sensor technology and to reprogram it with a new Siemens PLC control. BEIL supplied a bending machine for Heidelberg XL plates, one turntable and two one-sided stackers with plate carts. Individual print jobs are now easy to distinguish by an offset stacking of about 30 mm in the plate cart. Furthermore the automated production line now has a barcode reader and a sorting software for Heidelberg-XL respectively manroland plates. Remote maintenance of the system is possible at any time via a VPN-access. Components installed by BEIL are designed in such a way that subsequent modifying/expansion or an installation at another location can be done without great effort – for example by rebuilding the stackers to two-sided stackers. Because of floor space restrictions at Engelhardt this was the best fit to the available space.
"We should´ve done earlier"
Engelhardt Druck has been using the Beil solution in operation since 2018 and is very statisfied. The commissioning of the plate production has to be rated as excellent. The installation hasn´t led to any downtime. The commissioning started in the morning and in the evening, the first printing plates could already be produced. After about three months the new Beil automated printing plate production process was fully integrated. Once completed it enabled that two employees could be deployed for other activities. Especially the significant reduction of scratches on the plates due the elimination of manual pre-sorting is an obvious economic benefit. Engelhardt Druck is enjoying the financial gain from their investment with Beil. The customer´s conclusion is obvious: "We should´ve taken this step earlier."